Puppy plans 2023 – in English
Puppy plans 2023 – in English
RLDN Glädjerusets Tuffa Tesla is now mated with TJH Indragårdens Twix. Hopefully their puppies will be born in the beginning of November.

Tesla
This is how Tesla's owner Jonna describes her:
"Tesla is a dog with a lot of will to please, she always tries to do the right thing and she is always up for new things. She has a good on and off button, which is noticeable both in everyday life and in a training context. She is a clown disguised as a dog, and loves to make her mother laugh at various pranks. A cuddly dog ​​who likes to be in the middle of everything all the time, but there she lies and sleeps soundly.
She has a natural feeling for carrying and fetching things for her people. Lots of running in the legs, but zero desire to hunt when it comes to game in the forest.
Tesla is attentive to her surroundings and happy to show if something has changed, and she also has a great curiosity to investigate.
Today, Tesla is trained in freestyle, HtM, rally obedience, nosework and game tracks – all with equal enthusiasm. In the nosework, she has incredible endurance and doesn't give up until she finds the hiding place."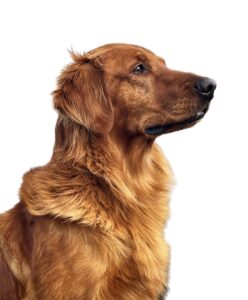 Twix
This is how Twix owner Annika describes him:
"Twix has a lot of drive and a good on/off button. He has a twinkle in his eye and a great desire to always do his best. He is responsive, uncomplicated and has a fantastic attitude to work. He is also very strong in all environments and together with other dogs. At home he is my shadow who loves to cuddle."
Twix is ​​a trained military dog and he competes in hunting.
There will NOT be puppies suitable as a family dog ​​only, even if you are an active family – dogs from Glädjeruset needs to work!
So are you interested in a service or rescue dog, a hunting companion or aiming high in any dog ​​sport, this is the litter for you.
Contact me by email for more information. 💌
Tesla on Swedish rasdata:
http://www.rasdata.nu/golden/hund/2020/s2552721.htm
Twix on Swedish rasdata: